Our technologies
EZO Bearings:
The fruit of our high-precision processing technology
Sophisticated high-precision processing technologies

In manufacturing precision bearings, it's essential to have high-precision processors and to build up prominent technologies and gain the experience of using those processors.
With precision processing technology that takes advantage of such comprehensive, long-established strengths, our company has realized the manufacture of high-precision, quality products even for extra-thin-section and stainless-steel bearings, which require especially high-standard technology.
Precise surface roughness processing of 10 nm (0.01 μm) is possible by the superfinishing of the raceway.
Thorough quality control

In accordance with a quality management system that conforms to IATF16949 and ISO9001 standards, the manufacturing and quality control departments join forces to conduct thorough quality checks of various characteristics, including dimensions, precision, noise levels, friction properties, mechanical properties and fatigue life.
Advanced measuring instruments and visual inspections by experienced workers (for fine surface scratches, distortion, roughness, etc. that are difficult to recognize in image processing) are adopted in all processes to prevent the outflow of non-conforming items.
Through this strict quality control system, we strive to manufacture products that satisfy our customers.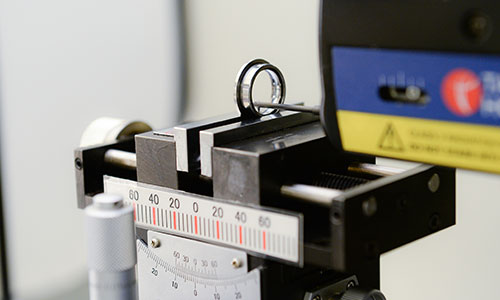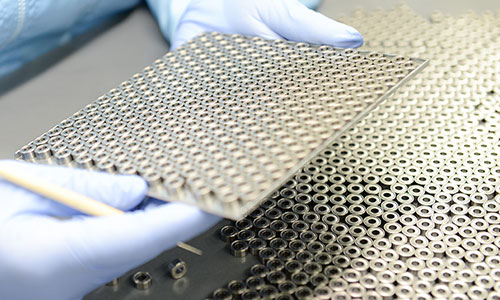 EZO Bearings:
Suitable for the manufacture of diverse items in small lots
A production system that covers a wide range of customer needs

Production plans and shift systems that meet the changing demands of customers are strengths of our company.
Purpose-built automatic machines are used for turning and grinding. In the assembly process, items in large lots are manufactured using automatic assemblers, while those in small lots are assembled manually. Such a versatile approach using various lines enables our flexible system to turn out products of 57,000 specifications by combining 1,300 standard models with different tolerance classes, radial internal clearances, lubricants, and the like.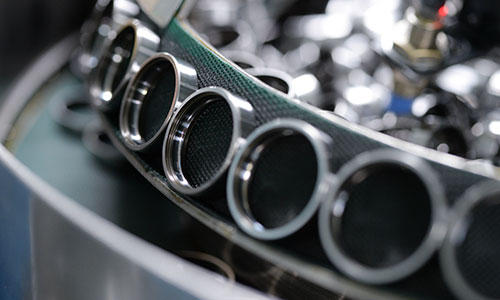 A highly efficient production system using automatic assemblers

Products are manufactured stably, based on flexible and versatile technologies that allow production arrangements to be changed and based on sophisticated operator skills, while making the most of automatic assemblers developed uniquely by us.
Downtime is minimized and highly efficient production with a shorter cycle time is realized by quickly changing arrangements for the production of diverse items, such as those with special specifications.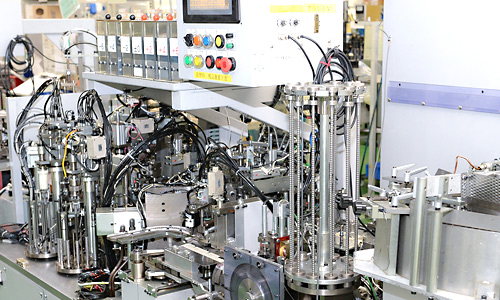 EZO Bearings:
Meeting diverse needs
Products to suit diverse purposes

We produce bearings that meet a wide range of purposes, such as low-noise bearings whose raceways and balls have improved roundness and reduced surface roughness, low-dust bearings that use a fluorine-based grease/fluoro rubber seal, wide-temperature bearings that use dimensional stabilization and appropriate greasing, hybrid bearings that use ceramic balls to achieve high speed and insulation, and food machinery bearings that are made of stainless steel and use grease and contact seals for food-contact applications.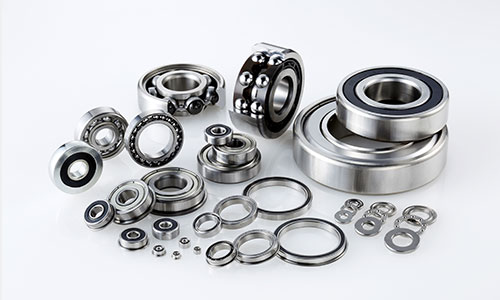 Products that meet a wide range of specifications

Using bearing steel and highly corrosion-resistant stainless steel, bearings of various sizes can be produced, from extra-miniature to large. We also produce ultra-precision bearings, such as JIS Class 4 bearings, as well as products that meet various specification requirements by allowing for selection from among open, sealed or shielded bearings and different lubricants and radial internal clearances.


(mm)

Bore diameter
Outer diameter
Width
Min
Dimensions
(Bearing No.)
Φ0.6
(68 /0.6)
Φ2.5
(68 /0.6)
1.0
(68 /0.6)
Max
Dimensions
(Bearing No.)
Φ95
(6819)
Φ125
(6918)
22
(6212)

Bore diameter
Min
Dimensions
(No)
Φ0.6
(68 /0.6)
Max
Dimensions
(No)
Φ95
(6819)
Outer diameter
Min
Dimensions
(No)
Φ2.5
(68 /0.6)
Max
Dimensions
(No)
Φ125
(6918)
Width
Min
Dimensions
(No)
1.0
(68 /0.6)
Max
Dimensions
(No)
1.0
(68 /0.6)
EZO Bearings:
For timely delivery
Demand forecast based on an analysis of customer needs and many years of experience

We determine demand trends by analyzing customer needs accumulated over the course of many years. Lead time is minimized by proceeding with the production of semi-finished products based on appropriate demand forecast and by starting the assembly process depending on the specifications of individual customers (e.g., lubricant filling, seal/shield attachment) as soon as orders come in.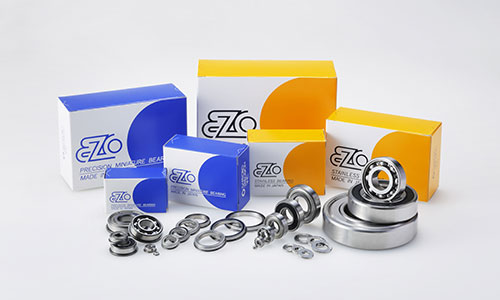 Main production items
EZO Bearings:
Satisfying expanding needs
Bearings, which are integrated into various devices and rotate while supporting loads, are important parts that play active roles as "behind-the-scene players" essential to our lives.
Our company produces bearings of various specifications for diverse industrial fields, including robotics and other leading-edge industries, in small lots of diverse products.
Of these, we focus on extra-miniature/miniature/small bearings, flanged bearings, extra-thin-section bearings and large stainless-steel bearings and meet extensive needs.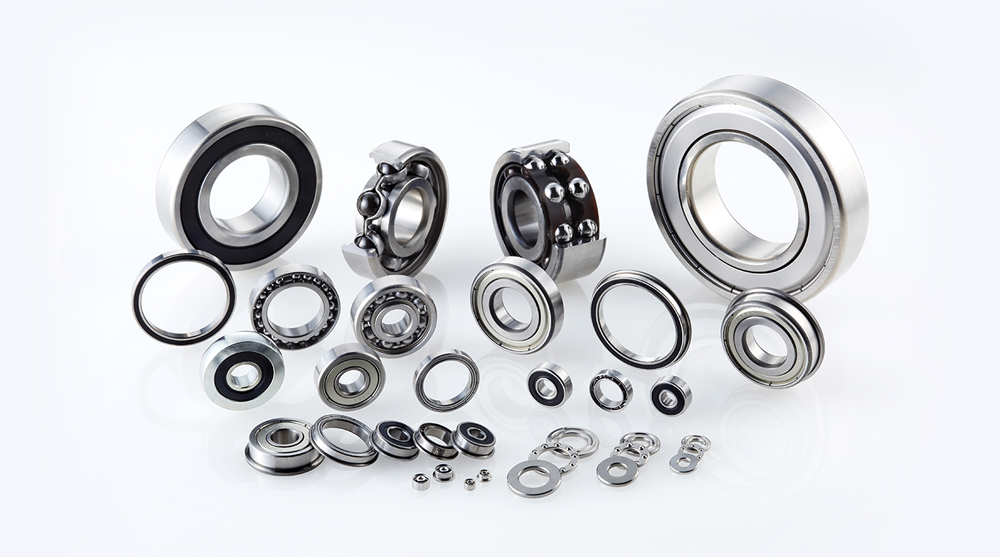 Click here for product details of EZO Bearings.
Growth fields
EZO Bearings: 
Playing active roles in various fields
The food & beverages field
Bearings used for machinery that comes into contact with food need to be extra safe and corrosion-resistant.
Our company produces stainless-steel bearings filled with grease for food-contact applications on an exclusive assembly line.
These bearings, which are more corrosion-resistant than those made of bearing steel, are used for food processors, food blenders, coffee mills, food/beverage fillers and the like. For sealing, it's also possible to use fluoro rubber (FKM) seals, which are highly resistant to heat, oils and chemicals.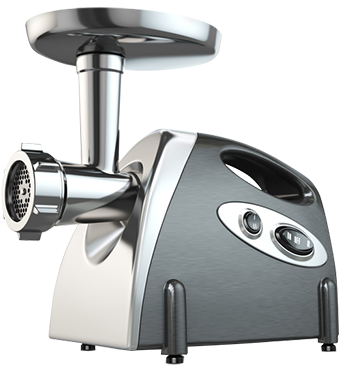 The medical and nursing field
Extremely high precision is required for bearings used in medical equipment.
Extra-thin-section stainless-steel bearings are used for medical equipment that needs to move efficiently in small spaces, including surgical assistance robots, in-vitro fertilization devices and peristaltic pumps, as well as for leading-edge technologies, such as lifting beds and robot suits for nursing.
For sealing, it's also possible to use fluoro rubber (FKM) seals, which is highly resistant to heat, oils and chemicals.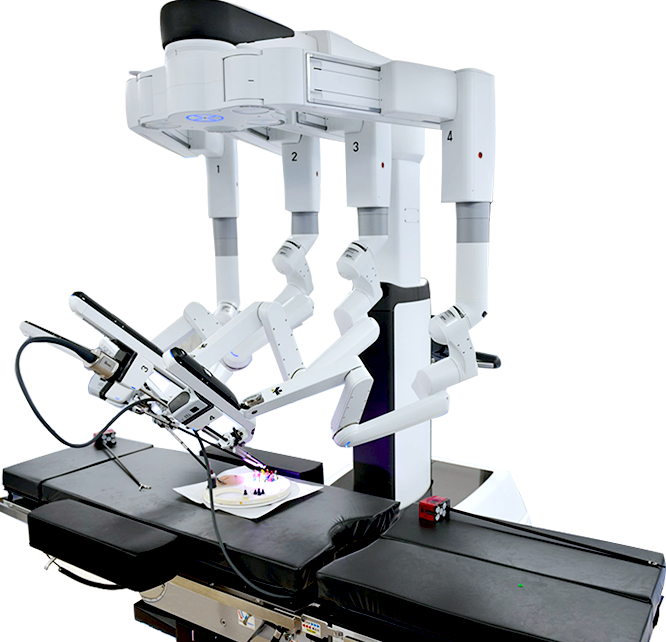 The industrial robot field
Another field where high-precision bearings are essential is industrial robots, where outstanding technological advances are being made.
The extra-miniature, miniature, small and extra-thin-section bearings in which our company specializes are used for robot arms and grippers that require precise movements, contributing to the production of smaller, lighter-weight devices.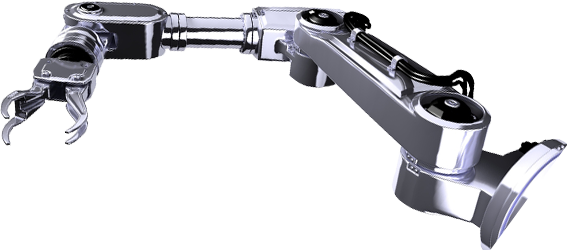 EZO Bearings: 
Contributing to "the fourth industrial revolution"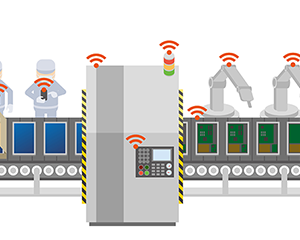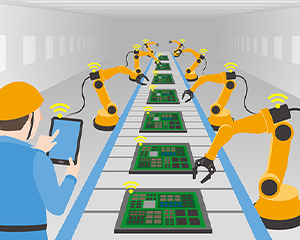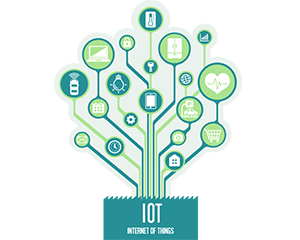 Drivers of "the fourth industrial revolution" are the Internet of Things (IoT, a network where all different things are connected to the Internet and work in a coordinated manner), information and communication technology (ICT), artificial intelligence (AI), and robots used as intelligent mechanical systems.
High-precision bearings are important parts that support the IoT and robots, which are key next-generation technologies. With high-precision miniature bearings, extra-thin-section bearings and stainless-steel bearings, our company provides support in situations that require energy and space savings and next-generation technologies in communications, advanced medical care and robotics, in order to contribute to an IoT society that links people with things and things with other things.
Markets
EZO Bearings: 
Spreading around the world
EZO Bearings: Now used in more than 30 countries around the world
Since its foundation, our company has focused on the demand for bearings not only in Japan, but also in overseas markets.
At present, EZO Bearings are sold in more than 30 countries around the world. This ever-expanding market attests to the global recognition of EZO Bearings.
STOP FAKE BEARINGS
In recent years, imitations of EZO Bearings have been found in different parts of the world. These are often sold through unofficial agents or on Internet shopping sites. Their quality is generally low, and accidents resulting from their use have been reported.
To avoid damage from such imitations, we encourage users to buy EZO Bearings from our official sales agents.
To find an official sales agent near you, please complete this form.
Quality assurance
EZO Bearings:
Meeting the expectations of customers, thanks to our highly reliable quality assurance system
Our company is striving to further improve customer satisfaction and product quality so as to ensure a stable supply of quality products.
Quality assurance system chart
To prove worthy of our customers' trust, we maintain a reliable quality assurance system in order to respond to customer requests for product research and technological inquiries. We do this by conducting quality, function and performance evaluations of various characteristics, such as dimensions, precision, noise levels, friction properties, material texture, mechanical properties and fatigue life, using various measuring instruments (e.g., roundness measuring devices, roughness/shape measuring devices, noise testers, electron microscopes, image sizers, tensile/compression testers, and life testers).