CSR activities
Connections with nature
- Environmental efforts -
We promote continuous environmental improvement, as well as pollution prevention, energy savings and resource savings through environmentally friendly production activities.
Basic concept of environment management
Environmental issues are now recognized as issues that extend beyond the human race and national boundaries. In light of such global recognition, we've established an environment management system for our activities that conforms to global standards.
We recognize that it's our responsibility to value the wonderful natural environment, whose natural splendor can be enjoyed, and to hand down to the next generation a healthy environment where sustainable development is possible. We promote continuous environmental improvement, as well as pollution prevention, energy savings and resource savings through environmentally friendly production activities.
Environmental management policies
As our management challenge, we promote harmony with the environment and ensure that everyone who's involved in our corporate activities acts in a manner friendly to the environment.
We recognize the environmental effects arising from the development, design, manufacture, technologies and production activities of our products at all times. We promote the efficient use of energy to mitigate climate change and achieve the sustainable use of resources, and we promote the prevention of water and soil pollution to protect biodiversity and ecosystems.
Concerning environmental impacts, we clarify our environmental objectives and goals and promote systematic efforts toward achieving those. We also review the objectives and goals regularly for the continuous improvement of our environment management activities.
We observe legal requirements and other requirements recognized by our company concerning our activities, products and services.
Environmental management system
Acquisition of certifications for environment management systems
Our company has obtained international-standard certifications for environment management systems.
International standard for environment management systems ISO14001
| | |
| --- | --- |
| Certification standard | ISO14001:2015 |
| Certificate no. | JQA-EM0554 |
| Registration organization | Japan Quality Assurance Organization |
| Applicable facilities | Main factory, Nishiashibetsu factory |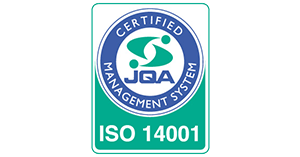 JQA-EM0554
Environmental management-related actions
Mitigation of global warming
To reduce CO2 emissions, which are a major contributor to global warming, we're committed to reducing energy use. As part of this commitment, we've supervised and analyzed power consumption through visualizations, and we've implemented power-saving measures, such as the efficient operation of compressors as power sources, the adoption of LED lights and the replacement of facilities with energy-saving ones. We also promote the reduction of kerosene use by using waste heat and wood pellet heating.
Waste reduction
We've improved manufacturing processes and thoroughly separated waste for the recycling of metals, waste oil and other materials generated in bearing manufacturing. To reduce waste, we also promote the reuse of packaging materials and paper.
Promotion of resource savings
We're committed to optimizing all resources, including materials and parts utilized in our business activities. In addition, we make efforts to increase product yield, optimize the oil exchange frequency to reduce the use of oil, and promote resource savings through the reuse of used packaging materials and other measures.
Efforts to improve the environment management system
Examinations of the environment management system
Our company makes constant efforts to improve our environment management system through examinations by a third-party organization and regular in-house examinations.
Environmental education
To achieve complete environmental measures, it's essential to foster an environmental awareness in each employee, in addition to establishing rules and systems. New employee education is provided for new and mid-career workers to inform them of and share with them our company's "basic environmental policy," "environmental policy" and "environmental goals." We also facilitate existing employees' understanding of the environment management implementation plan based on our environment management system, in order to improve their recognition and awareness of that system.